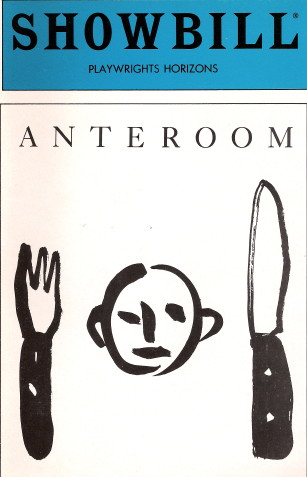 Synopsis:
The action of the play takes place in the butler's pantry of Fay Leland's lavish seafront estate on Long Island. Parker, the flamboyant son of Fay's friend and neighbor, Craig (whose wife ran off with Fay's husband), has inveigled a job for his cash-poor friend, Wilson, as Fay's cook and butler – which is part of Parker's scheme to convince the pill-popping Fay that Craig is secretly in love with her, Craig is planning to sell his property and business and retire to Switzerland, and Parker's thought is that if he can send Fay off with him he will inherit her mansion and, at last, be able to establish himself as a "celebrity" in his own right. But problems crop up when it develops that Wilson can't cook; the Polish maid, Maya, goes "on strike"; and Parker alienates his father's black mistress by showing up at the second act costume party (where everything comes to a riotous conclusion) masquerading as Josephine Baker.
Production History:
ANTEROOM was presented at Playwrights Horizons in New York City (Andre Bishop, Artistic Director; Paul S. Daniels, Executive Director; James F. Priebe, Managing Director) on November 20, 1985. The production was directed by Garland Wright; the set design was by Adrianne Lobel; the costume design was by Rita Ryack; the lighting design was by James F. Ingalls; the sound design was by Scott Lehrer; the production stage manager was Robin Rumpf; the press representative was Bob Ullman; and the production manager was Carl Mulert. The cast, in order of appearance, was as follows:
Parker: Albert Macklin
Wilson: Mitchell Lichtenstein
Fay: Elizabeth Wilson
Maya: Susan Cash
Craig: Colin Fox
Joy: Janet Hubert
Barbara: Crystal Field
Reviews:
New York Times review by Frank Rich, November 22, 1985
Published:
Dramatists Play Service, 1983.
Self Torture and Strenuous Exercise: The Selected Plays of Harry Kondoleon, Theater Communications Group, 1991.
Excerpt:
Click here.

Production Photos:

Elizabeth Wilson, Mitchell Lichtenstein, and Susan Cash

Albert Macklin, Colin Fox, and Janet Hubert

Albert Macklin, Elizabeth Wilson, and Mitchell Lichtenstein
If you've ever seen or worked on this show and would like to share your experience, please comment below.